2023 Summer EMS Internship Program
THIS COULD BE YOU!
Become a certified Emergency Medical Technician by the end of summer
Are you between the ages of 17 and 24? Do you live in Wapello, Davis, Van Buren, or Appanoose County? Have you considered a career in EMS? We are looking to hire 16 individuals for a grant-funded EMT Apprenticeship. Not only will EMT training be provided for free but you will be paid $12 an hour while completing the program. Applications are being accepted until noon on May 19th. The program runs from June 1st– August 19.
GET STARTED NOW
Stay informed of local  emergencies
Effective on 7/1/2021, Wapello County replaced its alert system with Rave Alert and Smart 911. To sign up, visit: https://bit.ly/WapelloAlert or download the Smart911 App. To ensure you receive the latest weather and community based emergency alerts we encourage you to re-register through our new system. With this switch, residents will have access to new features and functions that will enhance how you receive alerts! • A County opt-in page is available to you (see above to sign up!). The opt-in page will now also allow you to register multiple addresses (in and outside of your county) and numbers, and create a user account. • The Smart911 App allows you to receive push notifications across the State, including National Weather Service Warnings. You can log into the app with a user profile same as the online opt-in page, or use the app without an account. • You can also text WapelloReady to 672-83 to receive countywide tornado, flood and severe thunderstorm warnings, plus other emergencies affecting where you live or work. You can register your home, business, a relative's home or any address you need to check on.
SIGN UP LINK
Damage assessment reporting
Please use this form to report damage to your property, roads, utilities or any other storm-related information. This damage report will be sent to Iowa Homeland Security and Emergency Management and made available to your local emergency manager to better understand the event that caused the damage. Your contact information contained in the damage report will be kept confidential pursuant to Iowa Code § 22.7 (18). This provides situational awareness for local officials and assists in reporting the overall damage to our community.  Please contact your insurance provider to file a claim or ask what assistance they can provide according to your policy. 
Click to take assessment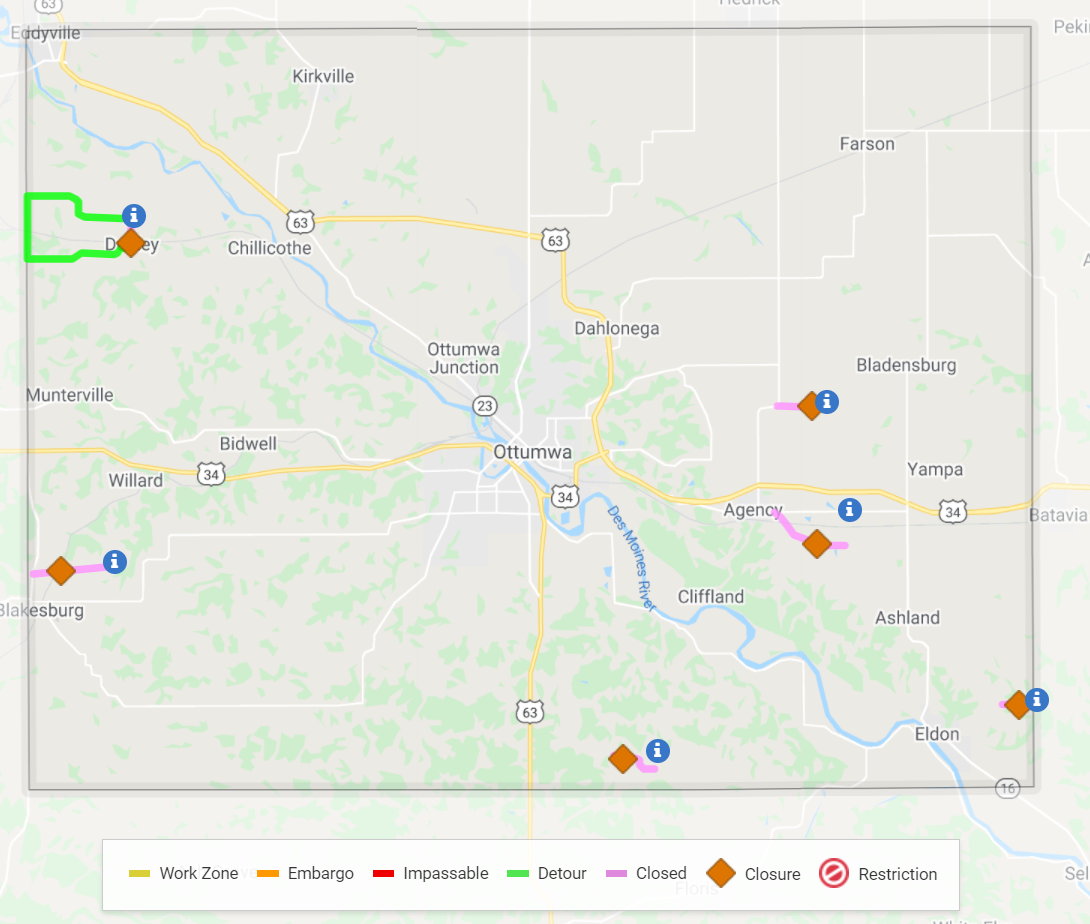 Wapello Co. Secondary Road closures
There are a lot of road projects going on in Wapello County right now. For project specifics, go to https://www.iceasb.org/roads/county/wapello Did you know the Secondary Roads Department maintains 699 miles of roads and 125 bridges in Wapello County? County roads serve rural Iowa transport needs in two capacities: Local Access roads assure a public road connection for every parcel of land; Farm to market roads also provide access and, in addition, serve as conduits that collect the flow of people and commodities, channeling them to and from towns and terminals. Even though county roads are considered "low volume" the daily travel they carry is equivalent to a single vehicle making 60 round trips to the moon.
INTERACTIVE MAP