Local law enforcement needs the public's help in looking for a dangerous fugitive.
Police searching for wanted dangerous fugitive who is at large
Police are searching for a wanted dangerous fugitive, Gregory Allen Showalter, Sr. Convicted of murder. Eluding police. Call 911 if sighted.
Meet Jake Bohi
EM Support Specialist
I joined the U.S. Marine Corps on January 14, 1983 and served until January 13, 1996. I served both active and as a Marine Corps Reservist. My rank when discharged was Gunnery Sergeant (E7). My job in the Corps was a Heavy equipment operator and as I was promoted, my duties increased. I was trained as an engineer equipment supervisor, bulk fuel supervisor along with my duties as a Marine Staff Non-Commissioned Officer. I served two years as a Marine Recruiter.
I was hired by the Phoenix Police Department on August 10, 1987 and retired from the Phoenix Police Department on January 7, 2016. I assisted in the implementation of several programs such as Crime Free Multi-Housing. I wrote policy for Explosive Breaching and proper deployment of meters during bomb squad responses. I sat on the Arizona Police Officer Standards of Training (AZPOST) as a subject matter expert (SME) in the explosives and tactical fields. As an SME, I wrote the curriculum being taught at the law enforcement academies in Arizona for Domestic Preparedness.
My last 19 years with Phoenix, I was assigned to the bomb squad. While assigned to the bomb squad I had the opportunity to work large public events such as the Super Bowl, World Series, and many dignitary protection details providing security from Chemical, Biological, Radiological, Nuclear, Explosive (CBRNE) and terrorist threats. My training gives me a very keen perspective on how threats could be carried out against a target.
The work mandated that I work with other agencies on a regular basis. I developed a great working relationship with neighboring agencies including federal assets like the FBI, ATF&E, TSA, Arizona Radiation Regulatory Agency (ARRA), Customs and all branches of the military.
I believe we all can make a difference through volunteering our time. I volunteered with an organization called, International Association of Bomb Technicians and Investigators (IABTI). IABTI has representation in over 70 countries and in 2018-2019 I held the position of Director and in 2019 my time on the international board ended. I have been a member of IABTI for 25 years and still assist where I can. One of my projects while on the board was in 2010, I and a colleague began the first ever certification for investigators who investigate post blast incidents. Through the Certified International Post Blast Investigators (CIPBI) certification, we now have certified members in more than 10 countries around the world.
I began working as an EMT at Davis County Hospital & Clinics in March of 2021. This new career has allowed me to learn a new science and continue working with people in a new way. The people I get to work with are true professionals. A few weeks ago, my boss Teri Hana sent me a message letting me know about a job opening at the Wapello County Emergency Management Agency. This really perked my interest as it is a field of work close to my heart. Most of my career with Phoenix was working with emergency management duties as a bomb technician and a HazMat Technician. I applied and was subsequently hired and began my duties there July 17th. I hope to use my experience to help further the EMA mission by increasing preparedness and delivering education and training opportunities and providing logistics support by deploying equipment that support all of the community public service teams.
Stay informed of local emergencies
Effective on 7/1/2021, Wapello County replaced its alert system with Rave Alert and Smart 911. To sign up, visit: https://bit.ly/WapelloAlert or download the Smart911 App. To ensure you receive the latest weather and community based emergency alerts we encourage you to re-register through our new system. With this switch, residents will have access to new features and functions that will enhance how you receive alerts! • A County opt-in page is available to you (see above to sign up!). The opt-in page will now also allow you to register multiple addresses (in and outside of your county) and numbers, and create a user account. • The Smart911 App allows you to receive push notifications across the State, including National Weather Service Warnings. You can log into the app with a user profile same as the online opt-in page, or use the app without an account. • You can also text WapelloReady to 672-83 to receive countywide tornado, flood and severe thunderstorm warnings, plus other emergencies affecting where you live or work. You can register your home, business, a relative's home or any address you need to check on.
SIGN UP LINK
Damage assessment reporting
Please use this form to report damage to your property, roads, utilities or any other storm-related information. This damage report will be sent to Iowa Homeland Security and Emergency Management and made available to your local emergency manager to better understand the event that caused the damage. Your contact information contained in the damage report will be kept confidential pursuant to Iowa Code § 22.7 (18).
This provides situational awareness for local officials and assists in reporting the overall damage to our community. Please contact your insurance provider to file a claim or ask what assistance they can provide according to your policy.
Click to take assessment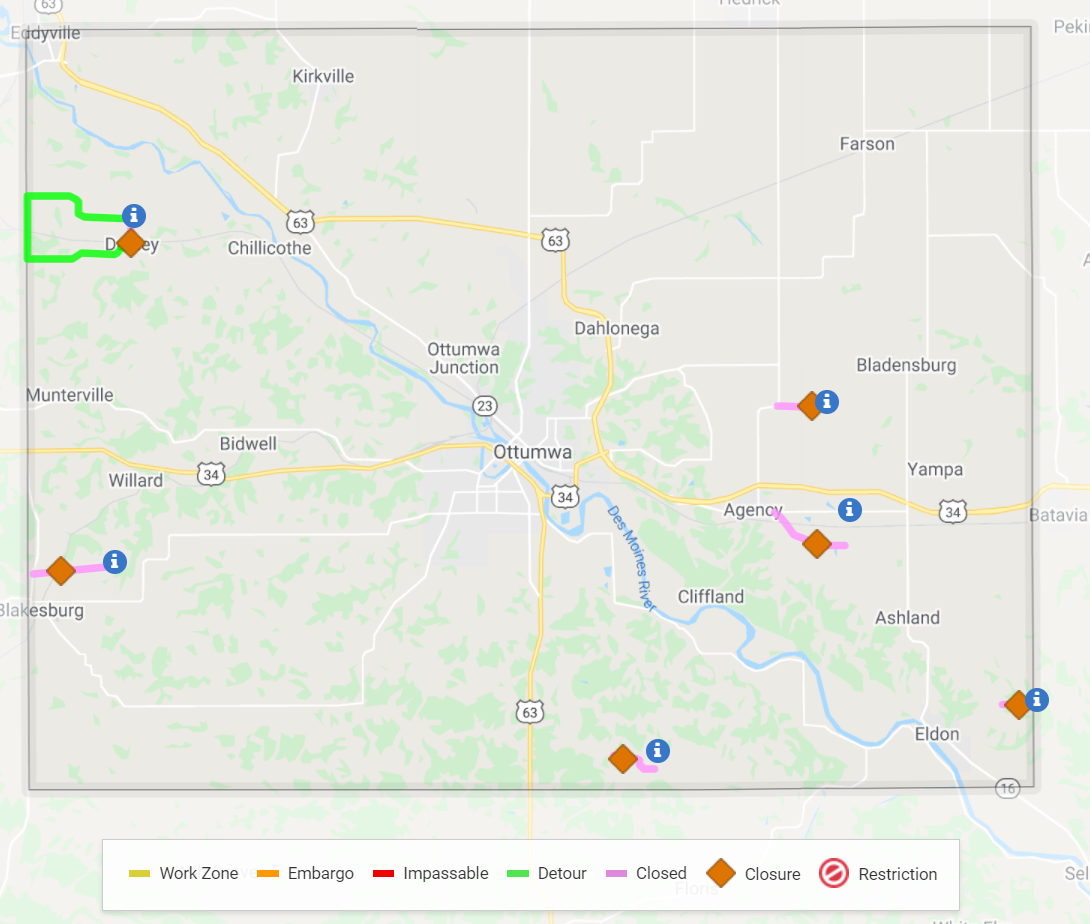 Wapello Co. Secondary Road closures
There are a lot of road projects going on in Wapello County right now. For project specifics, go to https://www.iceasb.org/roads/county/wapello Did you know the Secondary Roads Department maintains 699 miles of roads and 125 bridges in Wapello County? County roads serve rural Iowa transport needs in two capacities: Local Access roads assure a public road connection for every parcel of land; Farm to market roads also provide access and, in addition, serve as conduits that collect the flow of people and commodities, channeling them to and from towns and terminals. Even though county roads are considered "low volume" the daily travel they carry is equivalent to a single vehicle making 60 round trips to the moon.
INTERACTIVE MAP